Clinithink has been selected to receive the RARE Champion of Hope – Collaborations in Science and Technology award at the 7th Annual RARE Patient Advocacy Summit on October 4th in Irvine, California.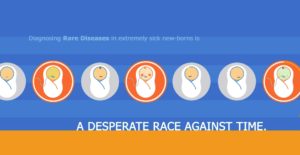 Over 200 individuals and organizations worldwide were nominated by their peers for a RARE Champion of Hope award for their notable efforts in rare disease advocacy, teen advocacy, science, medical care and treatment and collaborations.
Along with their collaborators Rady Children's Institute for Genomic Medicine and Alexion Pharmaceuticals, Clinithink was selected to receive the award because of the work which resulted in the successful compression of the time needed to diagnose rare genetic disorders in newborns through DNA sequencing to 19.5 hours.
Clinithink's CLiX focus solution has been shown to dramatically accelerate the diagnosis of rare disease. This was evidenced in the Rady-Alexion-Clinithink collaboration, for which the RARE Champion of Hope has been awarded, where Clinithink's CLiX focus solution was used for two key activities in the process: quickly combing through electronic medical records to extract crucial phenotype information and comparing the extracted phenotype with over 12,000 phenotypes (plus an additional 15,000 synonyms) describing the characteristics of thousands of rare diseases.
The Clinithink solution can perform both of these tasks in seconds compared to the hours or days it would take a highly skilled specialist physician to do.
The diagnosis of rare disease is incredibly challenging and, if left undiagnosed these conditions are very expensive to manage and, often, life limiting. Genomics data has held great promise and, increasingly, evidence is suggesting that phenotype is at least as important as genotype in diagnosis and the development of new treatments. However, in order to be able to unlock the true value of such data AI tools, such as Clinithink's patented CLiX insight platform is essential.
Sarah Beeby SVP, Life Sciences said: "Our work with Rady and Alexion has enabled us to evidence the value of our technology and, more importantly, be involved in projects that can help save the lives of those with rare diseases.
"Narrative data is a valuable asset in healthcare but is largely inaccessible due to its lack of structure as existing technologies rely on structured data or key word searches. Our CLiX technology can 'read' thousands of clinical documents an hour and extract the information they contain. This has significant benefit in the clinical setting and is also very powerful for clinical trials as it can optimize the development process along the entire continuum."
Clinithink CEO, Dr Chris Tackaberry said: "We are absolutely delighted to be recognised together with our collaborators in the RARE Champion of Hope awards and very much look forward to meeting colleagues and peers involved in this exciting space at the RARE Patient Advocacy Summit in October."